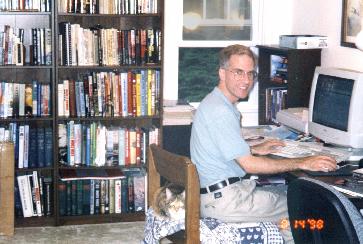 At work with my assistant "Squish"
GENERAL:
Real life: Husband, Commercial/Industrial Construction Project Manager
Other life: Volunteer for HPS Simulations, Military Historian, Wargamer
WARGAMING EXPERIENCE:
Began wargaming in 1972 with Luftwaffe, and enjoyed all the tactical level wargames available, including PanzerBlitz, Panzer Leader, Sniper!, Patrol, Tank!, Richtofen's War, Spitfire, Air Force/Dauntless, Air War, Tobruk, and Squad Leader. On the other end of the spectrum I particularily enjoyed the first edition War in the East, War in Europe, and War in the Pacific.
I became a computer wargamer in 1984 and have enjoyed many wargames and flight simulations similar to my tastes in board wargaming.
Contributions to HPS Simulations:
Development and testing of Aide de Camp 2
Development and testing of Panthers in the Shadows, Tigers on the Prowl 2, Broken Alliance, Dragons in the Mist
Historical research and design of maps and scenarios for these titles
Campaign disk design credits:

"LSSAH in Normandie" - Panthers in the Shadows campaign disk #3

"GrossDeutschland on the Steppes: 1942" - ToP2 campaign disk #5

"Hell on Wheels" - Panthers in the Shadows campaign disk #7

"KG Peiper in Russia: 1943" - ToP2 campaign disk #10

Other contributions to computer wargaming:
Maintains the HKL website.
Programmed editors after reverse engineering the data files for the following titles:


| | |
| --- | --- |
| HPS Tigers on the Prowl Series (HPSEDIT) | SSI Western Front (WFEDIT) |
| SSI Steel Panthers (SPHACK/SPEDIT) | SSI Carriers Strike (CSHEX) |
| SSI USAAF (USAFEDIT) | Dynamix Aces over Europe: AOEDIT, AOEREAL, AOEFIX |
| SSI Pacific War (PWEDIT) | |
---
EDUCATION:
B.A. in History (Modern European). Minor in German. Creighton University, Omaha, NE. Graduated summa cum laude.
---
MILITARY EXPERIENCE/AWARDS:
Army Junior ROTC (High School Level) 1973-1977.
Superior Cadet Award (two awards)
Legion of Valor Bronze Cross of Achievement (1977)

Army ROTC (College Level) 1977-1981. Four year full scholarship.
Superior Cadet Award (four awards).
Distinguished Military Graduate.

Cadet Troop Leadership Training (CTLT) 1980. Served as platoon leader in an Company, 4th Infantry Division, Ft Carson, CO.
Marksmanship Training Unit #6, Fort Ord, CA. 1979.
Air Defense Artillery Officer Basic Course, 1981.
Graduated top of class.
Air Defense Artillery Officer Advanced Course, 1985.
Graduated top of class.

Active Duty, US Army, 1981-88. 1st Battalion, 7th Air Defense Artillery (IHAWK) Ft Bliss, TX. Tactical Control Officer, Platoon Leader, Battery Executive Officer. 6th Batallion, 52d Air Defense Artillery (IHAWK) Wuerzburg, Germany. S-4 (Logistics). Army Commendation Medal (two awards), Army Achievement Medal (three awards).